The River Steeping burst its banks at Wainfleet All Saints, Lincolnshire, on Wednesday after the equivalent of two months' rain fell in two days.
A state of emergency was declared on Thursday with more than 70 properties flooded and residents evacuated.
Three Chinook helicopters were at the scene on Friday evening.
Ian Reed, the head of emergency planning in Lincolnshire, said: "We're confident that we are definitely seeing a change and, whilst water levels are not going to go down really quickly, it is helping and it's doing exactly what we wanted it to do.
"So, that operation has been a success.
"It's a temporary measure, but it's doing what it set out to achieve."
A firefighter was taken to hospital with minor injuries after he was injured moving equipment overnight on Thursday in Wainfleet.
Assistant Chief Constable Shaun West of Lincolnshire Police said the rescue effort was showing some early signs of success.
"Where there were thousands of gallons of water gushing through that breach when I started, that is starting to stem."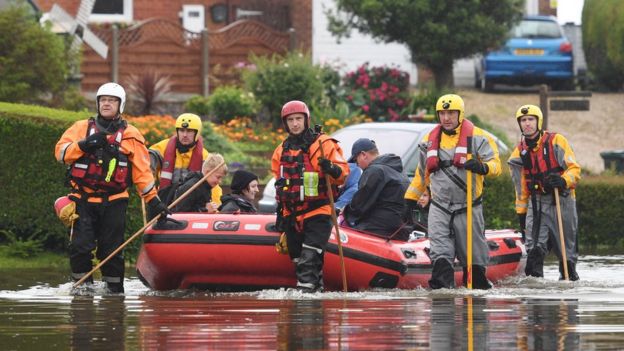 Source :